Heating, Ventilation and Air Conditioning ( HVAC ) duct cleaning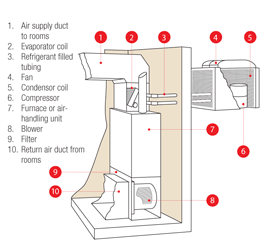 Today, Indoor Air Quality (IAQ) and energy efficiency are of concern to building managers.

Duct cleaning improves Indoor Air Quality, enhances the efficiency of the HVAC systems, and prolongs their life expectancy.

We clean your HVAC ducts using the most reliable and effective methods, including: forward thrusting compressed air probes, HEPA- filtrated negative air pressure, mechanical scrubbing and vacuuming. Sections of the system being cleaned are sealed to avoid dirt or dust from leaking into the room.
We also clean the heating or cooling coils and the supply/return air registers.
Bacterial swab testing and video inspection reports are available as required.
Ducts can be sanitised and disinfected using natural anti-fungus agents based on Tea-Tree oil.