Cooking exhaust systems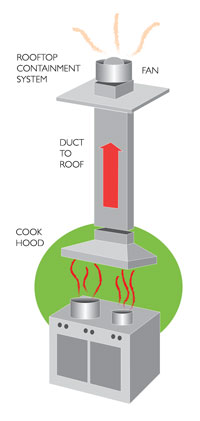 We clean your cooking exhaust system to comply with the applicable Australian standard (AS 1851-2005). AS 1851-2005 requires at least an annual inspection, and cleaning as required.
Contact us to request your copy on the one-page service timetable included in the Standard. This timetable lists the building manager obligations with their frequency: weekly, monthly, quarterly, six-monthly, annual, or as required.
A service certificate indicating compliance is provided to the Customer, or on request to other parties such as your insurance company, council, shopping centre manager, etc.
We provide a trustworthy service: "before" and "after" pictures provide photographic evidence of the work, on request. For programmed maintenance customers, the photographic evidence is made available on a dedicated, confidential, password-protected web page.
We clean your cooking exhaust system by the best available method, based on our 15-year experience cleaning: hotels, clubs, fast food restaurants, canteens, hospital and aged care facilities, and restaurants.
Based on the type of cooking you do, your operating hours and the design of your exhaust system, we will recommend the best cleaning frequency for your particular system. This frequency will then drive a punctual programmed maintenance routine. We have been operating regular cleaning and maintenance programs for hundreds of our customer sites. With our reliable programmed maintenance, the owners/managers rest assured that their system is operating at peak safety, efficiency and with the least amount of mechanical failures.
Pizza ovens and associated ducting require even more care than regular kitchen ducting, due to the high soot production of wood-fired pizza ovens. Contact us for a custom maintenance program if you operate a pizza oven in your kitchen.